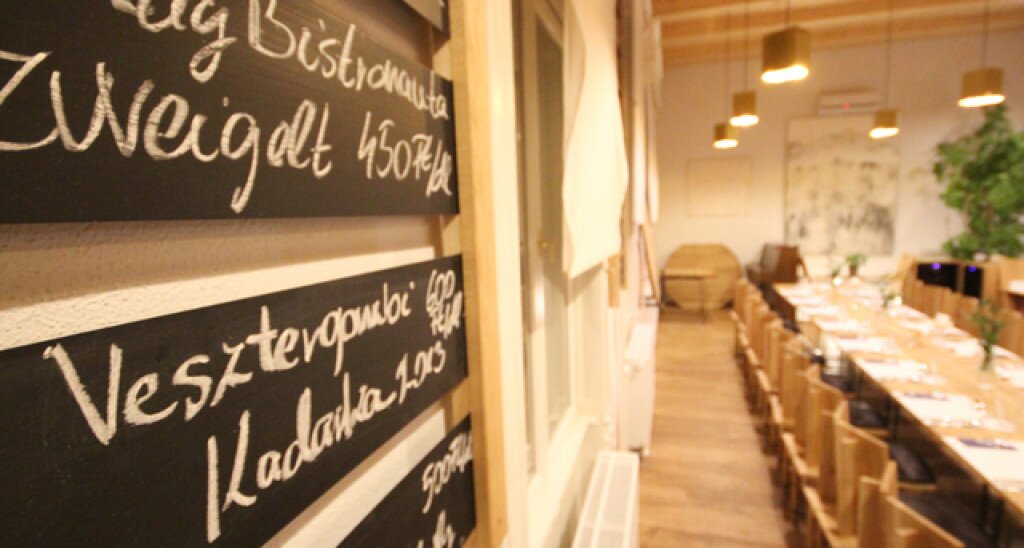 Miskolc Restaurant Review: Dűlő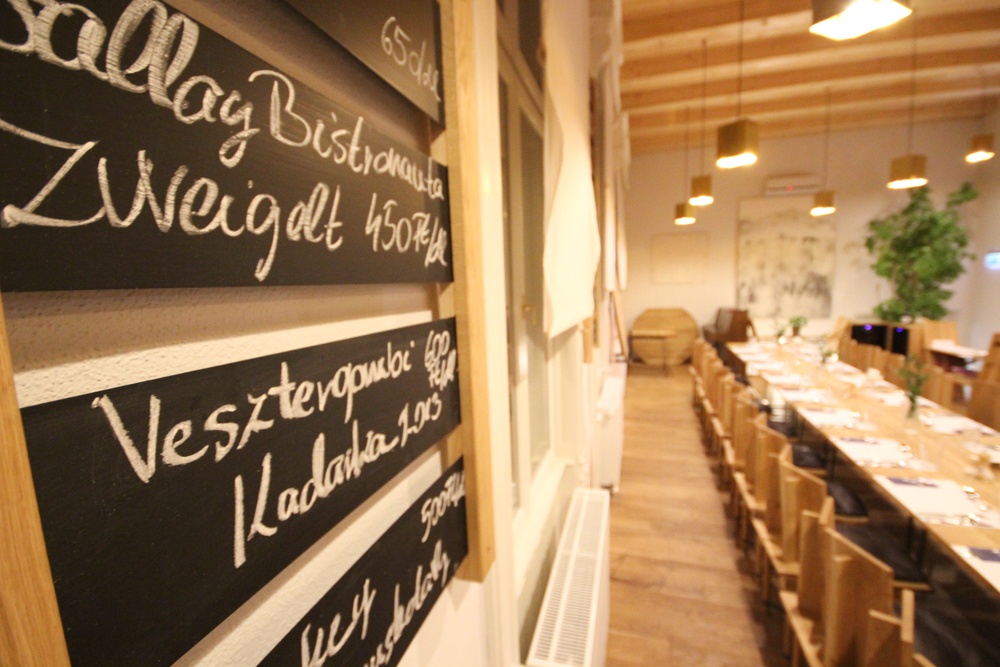 Local Flavors, Local Style
Anita and I had decided a Wednesday dinner date would be a nice break from weekday monotony. Dűlő seemed an optimal choice: modern, romantic and well-reviewed. We were seated in an intimate room with soft lighting and simple design. The interior of this old wine merchant's home has been meticulously renovated. With white walls, high ceilings and pine wood accents, there is a sense of space and freshness here. Soft, jazzy covers of timeless songs created a relaxed mood. Anita and I smiled at each other as we looked up from our menus. So far so good.
Our neatly dressed waiter returned, and we ordered some wine from St. Andrea in the nearby Eger wine region. Last summer we visited St. Andrea. Their wines are incredible. Two other couples were now seated in the room. Through an archway I watched as well-heeled people headed downstairs to Dűlő's wine bar. A long table was set in the next room for a large group—not a bad turnout for a Wednesday, I thought.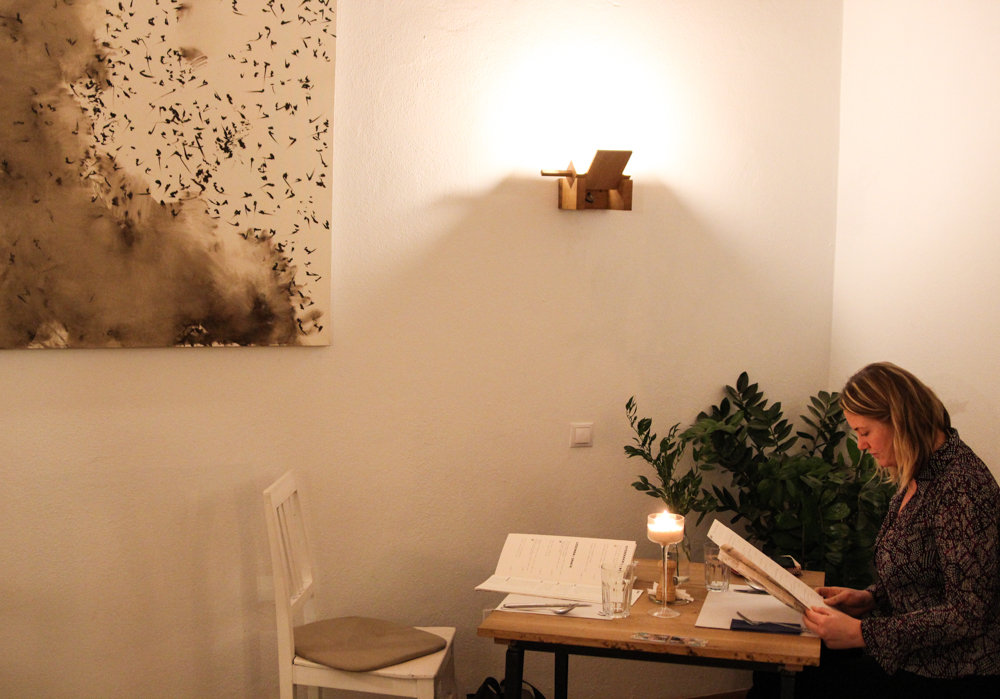 The wine was served promptly. Tasting St. Andrea's Csakegyszóval pinot noir conjured up memories of that summer day in Egerszalók with Anita and my brother Paul, who was visiting from California. Ordering was a breeze, as Dűlő's menu is in Hungarian and English. I ordered the pink duck breast with toasted croquettes, red cabbage and plum sauce. Anita chose the beef cheeks with bread dumplings, crispy onion and Brussel sprouts.
I had wanted to visit Dűlő for some time. One of my co-workers recommended it a few months back. While Miskolc is no stranger to fine dining, there definitely aren't too many options when it comes to non-traditional Hungarian cuisine. Finding a restaurant that serves local, modern and innovative dishes is a challenge.

Only Here
Miskolc is a fairly large industrial city, yet all around Borsod County one finds agricultural and pastoral happenings. Quality produce, meat and dairy is abundant. Vineyards are everywhere and artisanal foodstuffs common. The Bükk and Zemplén mountains give contour and wild game. The Tisza and Bodrog rivers give life and fish. Dűlő knows this well, their menu is packed with ever-changing, locally sourced ingredients.
In many ways, this restaurant manages to distill Miskolc and its environs down into a single place. Concrete and steel symbolize industry, while the use of copious wood and indoor plants represent the Bükk National Park. Their menu is based on the concept of terroir: ingredients from this place, in season. I'm told the style here is inspired by the patchwork architecture of the Avas Hill wine houses behind the restaurant. A place where factory workers used scraps of this and that to create their visions. Resourceful people who used what they had, where they were.
While waiting for our food, a small plate of fresh bread and parsley infused cream cheese was served. Simple, yet vibrant, fresh and beautiful. The parsley's aroma filled the room. It was also very tasty: herby, creamy and satisfying . . . not to mention free.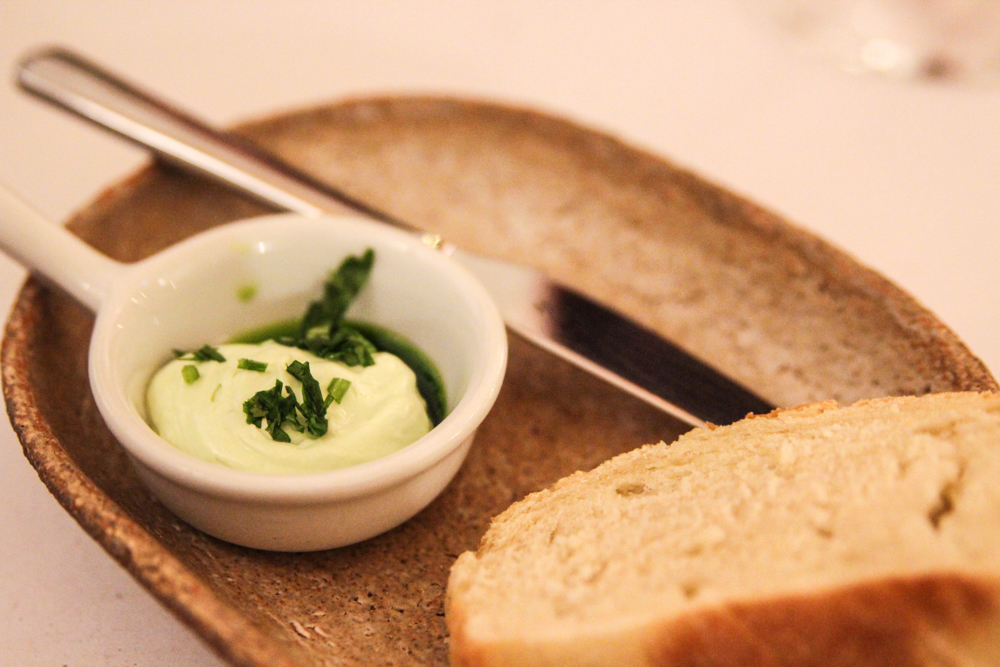 Main Course
Using the Miskolc Pass Card we received a complimentary glass of house wine each. Their 2012 Szent Benedek Fruska (a blend of Furmint and Muscat) was a surprisingly complex wine. Calling this a "house wine" really doesn't do it justice.
Our dishes arrived soon after. The duck breast had been sliced and nicely arranged amongst croquets. Plum sauce zig-zagged across the plate. My dish lacked a bit of color and wasn't quite warm enough, though. Nevertheless, the duck was incredibly tender, and together with the plum sauce, a deliciously savory, sweet and satisfying combination. Anita's plate looked appetizing. Neither of us had eaten beef cheeks before and Anita was a tad apprehensive. Served atop toasted bread dumplings and garnished with crispy onions, the cheeks looked much like small steaks.
Flaky and delicate, the beef cheeks were delicious. Flavorwise I could tell the meat was fresh and of high quality. Beef isn't too common in Hungary and is often overcooked. Here it was perfect.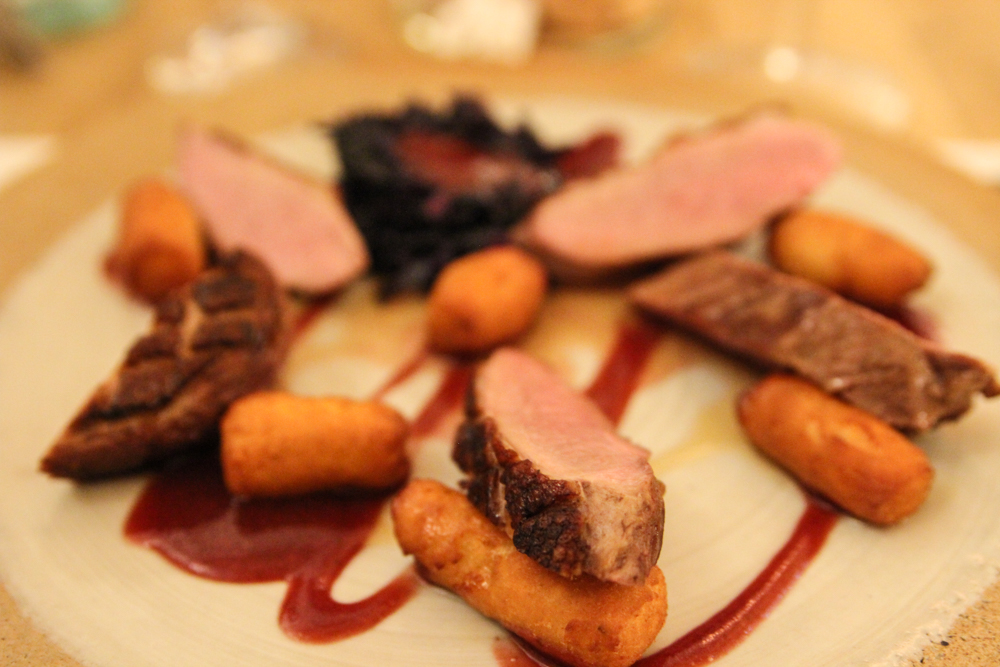 Dessert
This was by far the best part of our meal—and the meal was good. Anita ordered passion fruit cheesecake and I got the "OLVADÓS" chocolate brownie with orange jam.
Intense, warm and oozing, this little brownie is the stuff of chocoholic dreams. It was literally fresh from the oven. The orange jam a perfect pairing—rich chocolate meeting citrusy zest. Anita's cheesecake was also a knockout: creamy, sweet but not too sweet, with an exotic fruitiness. "I don't know how they made this," Anita remarked, "but this is better than pretty much any cheesecake I had in the U.S." I took a bite, and it was indeed one of the best I've had anywhere.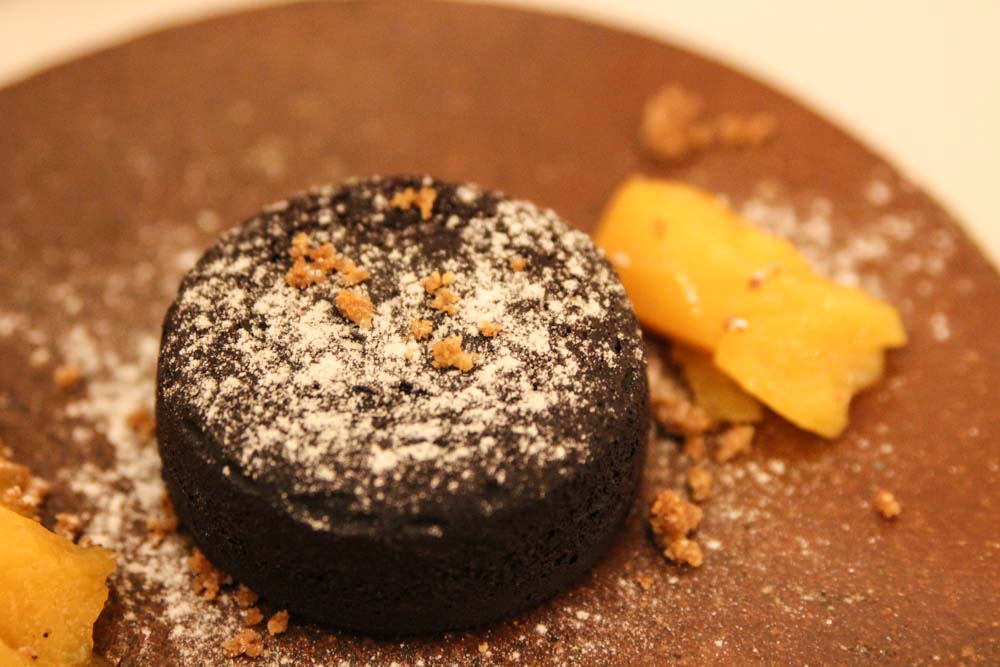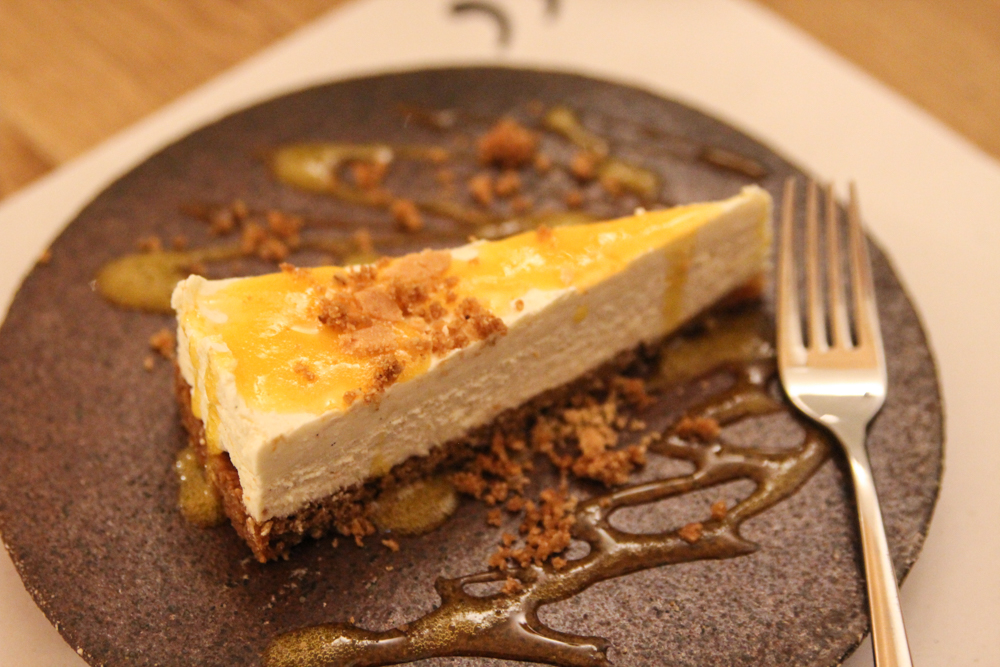 Looking back on it, dinner at Dűlő was almost a perfect dining experience: The ambiance is welcoming and fresh; staff are friendly yet reserved; orders are taken and served promptly; the wine list is great and the food fresh.
It's a place I would return to. It's a place on par with restaurants I've eaten in around the world. Sure, it's a bit pricier than other restaurants in Miskolc, but you get what you pay for. And this is certainly true at Dűlő.
Address: 3529 Miskolc, Görgey A. u. 10.
Reservations: +36/ 70 333 1992
email: info@dulo.hu
The Miskolc Pass Card can be purchased here
More: 4 Perfect Itineraries in Diósgyőr & Lillafüred