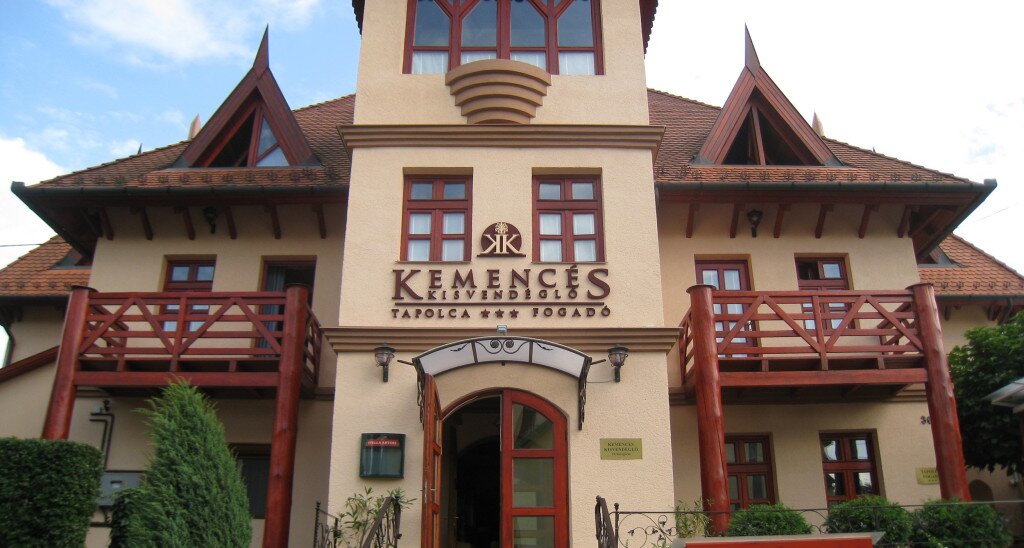 With Miskolc Pass card 10 % off at the hotel and in the restaurant.
The room rate's discount is valid only in case of booking your room directly at the guesthouse! (by phone, by e-mail, on the website of the accommodation)
Guest-house for you!
Our guest-house, the Tapolca Fogadó is located in picturesque Miskolc tapolca, only a few kilometer-drive from Miskolc. The guest-house opened its doors in March 2001. As for the design and construction of the hotel, we made a point of choosing natural materials, which was also the main guideline in selecting materials for room furniture. The guest-house is mostly made of larch, which creates a cozy atmosphere for our guests. Besides the building materials, the guest-house is also one of a kind when it comes to architectural solutions and design. Neither guest-houses, nor hotels, not even up market ones can boast with such a unique architectural design,( let alone cheap accommodation). Thanks to the special roof concept implemented by Leták és Tamás Construction Company, our guests can experience the so-called "house in a house" feeling. The tastefully equipped and decorated hotel has quickly become the favorite choice of holidaymakers, each year more and more tourists vote for our guest-house. We highly appreciate the confidence exuded by our dear guests and we continuously make an effort to maintain the hotel's reputation not only as a special and exclusive accommodation but also as a place offering high-end services. Even in a highly competitive market, we do everything to keep our prices as low as possible.
ROOMS
The hotel has a total of 14 fully-equipped rooms, all of which have an en-suite bathroom adjusted to the needs of our Guests. Their furniture and amenities are free from any unnecessary decoration, they radiate a cozy atmosphere. Thanks to the loftiness of our rooms, our Guests enjoy an enhanced sense of freedom, they do not feel imprisoned and claustrophobic as in the case of cheap guest-houses. Thanks to the natural materials, the rooms are neither humid nor dry, they offer ideal circumstances for our Guests. The hotel has double, triple and quadruple rooms awaiting those who want to unwind and relax. All rooms are equipped with a fridge, a cable TV, and have en-suite bathroom. Thanks to the natural materials, the rooms have a pleasant temperature, they are cool in the summer and warm in the winter. All rooms are smoke-free. The room-furniture match with the style of the hotel and (as stated above) are free from any unnecessary and cheap decoration. The pieces of furniture of the hotel are almost exclusively made from natural materials, therefore they create an extremely cozy atmosphere for those who prefer an urban, cosmopolitan style and also for those who are more accustomed to traditional, rustic features. To sum it up, we can say that the rooms not only impress our dear Guests with their equipment, design and loftiness, but they also have an atmosphere which turn our Guests into regular customers. At the reception desk our dear Guests can buy a pass for the cave-bath with a 20% discount! During 3-day long bank holiday weekends (Whitsun, 15 March, 23 October etc…) we offer accommodation with breakfast in a minimum 3-day long package according to our price-list. For the Easter holidays we accept reservations for a minimum 3-day long period, with half-board applying our summer prices.
Kemencés Restaurant is open again!
Renewed, unique appearance, homely athmosphere, low prices. We wait our old and new guests with a wide choice of gastronomic specialities.
ON FRIDAYS AND SATURDAYS OUR GUESTS CAN ENJOY HARMONIOUS LIVE MUSIC!
ON THESE DAYS OUR MUSICIAN "CSOKI" RAISES UP THE MOOD WITH HIS AMAZING UNIQUE VOICE AND SOFT MELODIES!
You can choose from our menu from original, traditional hungarian specialities, as well as from a wide choice of international and modern meals.
You can order from any of our meals of the menu.
We accept Visa, VisaElectron, VPay, MasterCard, Maestro and SixPay payments.